DOULA SERVICES
Peace of Mind Included
Daytime: I will come to your house for a mutually agreed upon block of time ranging from 4-8 hours. We will treat every day as a new adventure and figure out what we need to do. I will help smooth your transition into parenthood and help with sibling integration. I will support you with your goals to breastfeed, or help you with bottle feeding. I will make sure you are hydrated and nourished, and can help prepare light meals or run errands and take on light household tasks. Together we can work on helping soothe your baby, establish routines to help baby sleep, and give you the breaks and peace of mind that you need. This period is as much about keeping you healthy, hydrated and happy as it is about doing the same for your baby.
Overnight: I will come to you house for a mutually agreed upon block of time ranging from 8-12 hours. I will take care of baby overnight, bring baby in for feedings as needed, perform some requested tasks related to baby, such as tidying the house, folding those piles of laundry, or light meal prep.
Virtual: I can chat with you virtually and offer guidance or do some research for you to connect you to perinatal specialists. I am not a doctor and can not help with any medical decisions or diagnoses, but I can help connect you with medical professionals. I can also be a virtual shoulder if you just want to vent and release.
INFANT MASSAGE
I will train you in infant massage
I offer in person or remote classes that are designed to teach you to massage your infant. Your baby can be one day old to one year old.
These classes are best taught in five one hour classes.
Infant massage has so many beneficial aspects. It will help you with bonding, it will help you understand and communicate with your baby, it helps stimulate your baby's many systems, it helps relax your baby, and it helps relieve some discomfort.
Please contact me to arrange a private class or join a group class.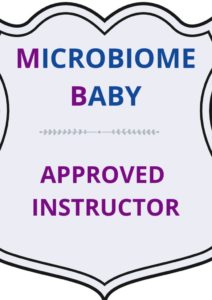 INFANT MICROBIOME
Virtual classes – forthcoming
I've just been certified as a Microbiome Approved Instructor. I shall be offering remote classes on how to set your baby up for a healthier microbiome.
The microbiome is the community of microbes. Microbes are the single cell microscopic organisms that live on and in us. Microbes are critical for human health. There is a critical period at birth where the microbes are passed on from the birth person to the baby.
This is a great class to take while pregnant, or thinking of becoming pregnant. I will provide you with information so that you have the knowledge to make more informed decisions at birth.
Overwhelmed?
You have a lot on your plate. I can help take things off your plate and set you up for greater successes and more peaceful transitions.